Wild Alaska Cod Saag Curry
---
---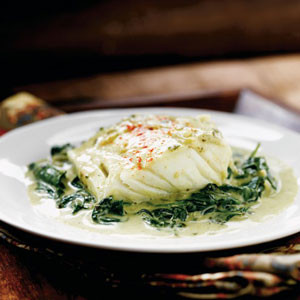 INGREDIENTS
1 tablespoon olive oil
1/2 cup sliced shallots
1 tablespoon minced garlic
1 tablespoon minced ginger
1/2 to 1 tablespoon curry powder
1 can (14 oz.) regular or lite coconut milk
1 to 2 teaspoons fish sauce
1 to 2 tablespoons minced cilantro
1/2 teaspoon garam marsala
1 can (14 oz.) chicken broth
1/4 cup heavy cream
8 to 10 oz. baby spinach leaves
Cayenne pepper, to taste
DIRECTIONS
In a large (12-inch) nonstick pan or stockpot, heat olive oil, shallots, garlic, ginger and curry over medium heat. Cook and stir 3 to 4 minutes until shallots are soft. Stir in coconut milk, fish sauce, cilantro, garam marsala and chicken broth.
Bring to a simmer; cook 3 to 5 minutes. Rinse any ice glaze from frozen Wild Alaska Cod fillets under cold water. Turn off heat and gently add seafood to liquid, skin side down. Return heat to a simmer.
Once simmering, cover pan and cook 4 to 5 minutes for frozen seafood or 2 minutes for fresh/thawed fish. Turn off heat and let seafood rest 5 minutes or until seafood is opaque throughout. Remove fillets; cover and keep warm.
Turn heat to high; reduce liquid by half, cooking about 5 minutes. Add cream and spinach, cover and cook until wilted.
To serve, portion 1/4 of spinach onto plate or shallow bowl, top with a seafood portion and sprinkle with cayenne pepper.
Nutrients per serving: 323 calories, 18g total fat, 9g saturated fat, 48% calories from fat, 62mg cholesterol, 25g protein, 16g carbohydrate, 4g fiber, 798mg sodium, 79mg calcium, and 360mg omega-3 fatty acids.