Smoky Pimenton and Sherry-Roasted Alaska Black Cod
---
---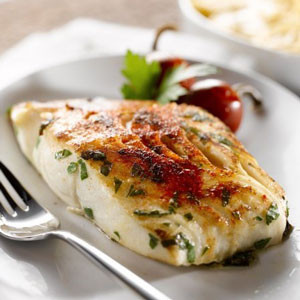 INGREDIENTS
4 Alaska Black Cod fillets (6 to 8 oz. each), fresh or thawed
Salt and pepper, to taste
1/2 cup dry sherry
1/4 cup chopped parsley
2 tablespoons grapeseed or canola oil
2 teaspoons pimenton (smoked Spanish paprika)
DIRECTIONS
Season Alaska Black Cod fillets with salt and pepper. Add sherry and parsley to large zip-top plastic bag. Add fillets, seal bag and turn several times to coat.
Marinate in refrigerator for 15 to 30 minutes. Remove fillets from marinade; discard marinade.
Heat oven to 350°F. Add oil to oven-safe skillet and heat to medium-high. Add black cod fillets to pan, skin side up, and sauté in oil for 3 to 4 minutes, until lightly browned.
Turn fillets over and cook an additional 3 to 4 minutes, until browned. Finish thicker fillets in oven, cooking just until fish is opaque throughout. Sprinkle with pimenton before serving.
Nutrients per serving: 472 calories, 37g total fat, 7g saturated fat, 72% calories from fat, 97mg cholesterol, 27g protein, 1g carbohydrate, 0.3g fiber, 116mg sodium, 79mg calcium and 2970mg omega-3 fatty acids.