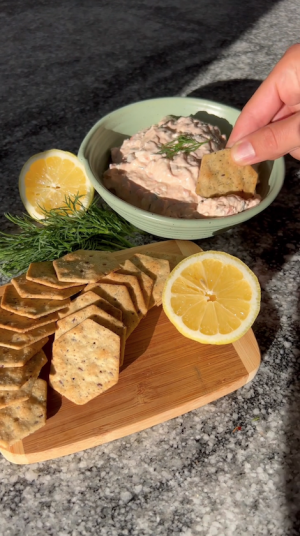 Deliciously easy salmon recipe that takes only 5 minutes to make!
ABOUT THE RECIPE
Next time you need a side dish that will WOW, take 5 minutes to put together this incredibly flavorful salmon dip! Use pre-baked salmon fillets along with both cream cheese and sour cream, incorporated with the flavorful warmth of rosemary, garlic, and capers. Season with your favorite hot sauce (We love Tabasco!), tangy lemon juice, and salt and pepper. Serve it up with crackers, bread, crudites, and more!
Learn more about Alaska Salmon
---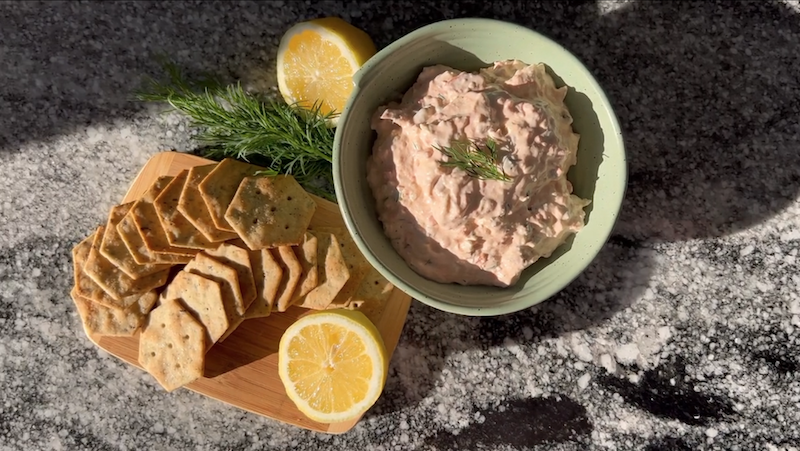 INGREDIENTS
5 oz pre-baked Salmon fillets
1/2 cup sour cream
1/2 cup cream cheese
1/2 of a lemon, juiced
1 1 tsp fresh Rosemary
1 1 tsp Capers
1 garlic cloves, diced
Dash of tabasco (or your favorite hot sauce!)
Salt, to taste
Pepper, to taste
DIRECTIONS
Cut salmon fillet in half and then into 2-inch chunks. Place half in a bowl for later and half in your mixing bowl.
Combine sour cream and mayo with your salmon using a fork. Once incorporated, add cream cheese, capers, rosemary, garlic, tabasco (or your favorite hot sauce!) and lemon juice and combine.
Finish by adding the remaining salmon chunks, combing with a fork until the chucks break up but are still intact. Season to taste with salt and pepper and serve with veggies, cracker, or bread.