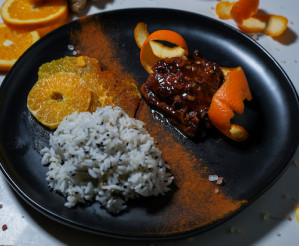 VIDEO
Orange Spiced Black Cod from Sammy Singleton on Vimeo.
PREP TIME: 5 min
COOK TIME: 10 min
TOTAL TIME: 15 min
SERVES: 4
INGREDIENTS
1 Tbsp olive oil
2 teaspoons butter
½ orange, juiced
3 Tbsp Agave
2 Tbsp low-sodium soy sauce
4 cloves garlic, crushed or minced
½ inch piece of ginger, grated
1 tsp Cinnamon
½ tsp Cardamom
½ tsp Cumin
Salt and cracked black pepper, to taste
½ orange, sliced to serve
An easy dish for anyone who wants their autumnal spices all year round.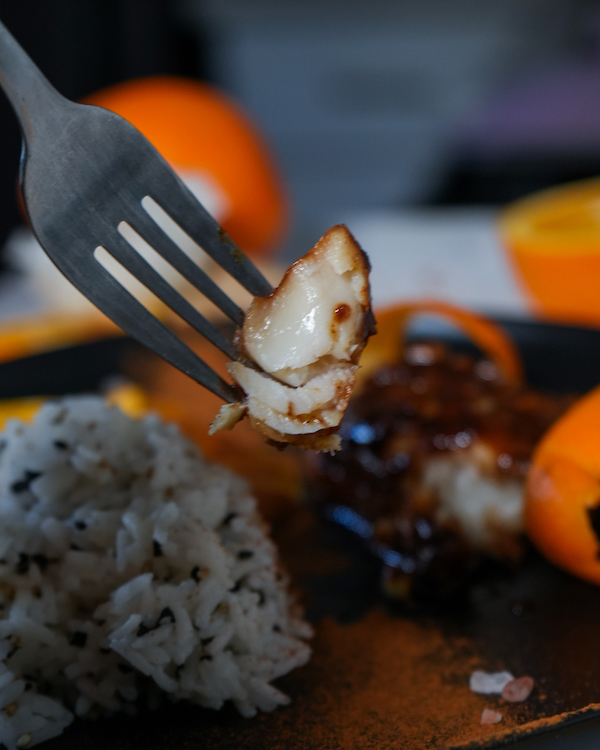 ---
DIRECTIONS
Heat oil in a pan or skillet over medium-high heat. Once hot, sear black cod fillets on one side for 3-4 minutes. Flip and sear for 2 minutes.
Mix your cinnamon, cardamom, cumin, and a generous amount of black pepper with your orange juice and pour over the black cod, allowing the liquid to reduce by half, about 1 minute. Add the garlic and ginger and cook until fragrant (30 seconds). Move the fillets to the sides of the pan and add in the agave and soy sauce, stirring to combine all of the flavors.
Bring to a simmer until reduced to a nice syrup, about 30-60 seconds. Keep moving the cod around in the sauce and regularly spoon the sauce over the fillets. Remove from heat once the fish is cooked to your liking.
Season with additional salt and pepper to your tastes. Drizzle with the sauce to serve. Great over a kale or arugula salad with nuts, cranberries, and goat cheese or a bed on quinoa.