Slow Roasted Halibut and Tomatoes
---
---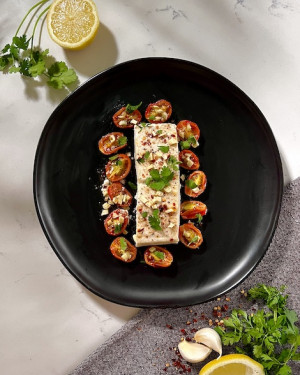 VIDEO
Slow Roasted Halibut with Tomatoes from Sammy Singleton on Vimeo.
PREP TIME: 10 min
COOK TIME: 45-50 min
TOTAL TIME: 60 min
SERVES: 1
INGREDIENTS
1 lemon
1 2-pound halibut fillet, skin removed
1 ½ Tablespoons extra virgin olive oil
1 ½ teaspoons fine sea salt
2/3 garlic cloves, minced
6 cherry tomatoes, halved
Fresh herbs (basil, parsley, oregano, thyme), chopped
Increase portions for more people
Dinner for one is served! Let your oven do the work for you, roasting together halibut fillet with tomatoes, olive oil, garlic, salt, lemon juice, and fresh herbs for a perfect summer side dish or main course. If you have more people joining you, increase the portions to accommodate.
Learn more about Alaska Halibut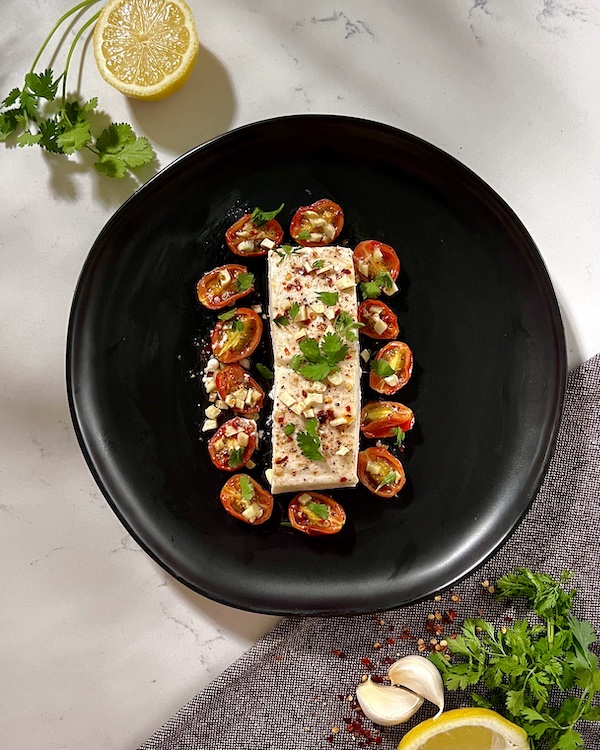 ---
DIRECTIONS
Preheat oven to 225°F. Cut lemon into thin slices and place on a baking sheet.
Place the halibut fillet on top of the lemon slices and surround with the cherry tomatoes. Drizzle the halibut and tomatoes with olive oil, salt and garlic and rub to spread evenly. Roast 40-50 minutes until the flesh flakes easily, and temperature reaches 125°F.
Serve immediately with fresh herbs.