Alaska cod baked in coconut yellow curry sauce, spice roasted vegetables, steamed rice
---
---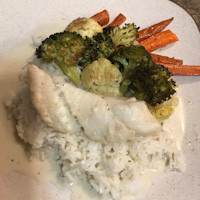 TOTAL TIME: 30 min
SERVES: 4
INGREDIENTS
1 ½ cups coconut yellow curry sauce
4 cups cooked rice, use any kind of rice you like for this, I will typically cook up Calrose because if there is some left over I will make it into rice cakes for later use
1 head broccoli, florets cut, stalk peeled and cut into quarters
½ head cauliflower, florets cut into pieces the size of the broccoli
2 medium carrots, washed and cut into ½ inch slices
1/8 cup extra virgin olive oil
1 tsp garlic powder
1 tsp onion powder
¼ tsp cayenne pepper
½ tsp fresh cracked black pepper
1 tsp sea salt
½ tsp smoked paprika
Yellow Curry Sauce
1 Tbsp canola oil
1 oz ginger root peeled and thinly sliced
2 each garlic cloves, smashes
½ cup mirin
½ cup sake wine
1 ½ cups heavy cream
16 oz can coconut milk
1 tsp granulated sugar
3 Tbsp yellow curry paste
Sea salt to taste
ABOUT THE RECIPE
This sauce is one of my favorites. It is easy to make, versatile, and most importantly delicious! I will make a batch of this and have it on hand for a quick and easy dinner any time. It will last for about 10 days in refrigeration, so don't be too worried about making a double batch.
You can easily make this yellow curry sauce ahead of time and just have it ready to go, or get it starting to cook while prepping the vegetables. If you have curry sauce already made, then just heat it in a sauce pan before using it for the recipe.
Recipe by Chris Garr, Executive Chef of Ivar's.
---
DIRECTIONS
Heat the oil with the ginger and garlic together until the herbs are softened and very aromatic.
Add the curry paste and cook in the oil until it softens and becomes very fragrant.
Deglaze with the wine and mirin, reduce heat to low and simmer until the paste is sticky.
Add the coconut milk, stir together well to make sure nothing is sticking to the bottom of the pan, simmer gently for 10 minutes.
Add the heavy cream and sugar, bring back to a simmer and cook for another 10 minutes.
Season with salt, strain through a fine mesh strainer and use for any sauce you would desire.
Once the sauce is made, this dish is extremely easy to make. Heat the oven to 400 degrees, you want a little hotter oven to get a good roast on the vegetables. While the oven is preheating start your rice: I tend to forget about my rice, so I love to use a rice cooker, however it can just as easily be done on the stove top.
While the rice is cooking, toss the vegetables together with the olive oil and the spice mixture and lay out on a baking sheet. Season the cod on all sides with sea salt and fresh ground pepper and place them in a baking dish, use a medium sized dish that gives the cod just a little space between each piece, the sauce should come about ½ way up the fish. You'll only need the cup and half or so of sauce for this one recipe, so after pouring that over the fish save the rest for a later use, make sure the sauce is still hot when pouring it over the fish as well. Place the vegetables and fish in the oven and bake for 15 minutes and then check the vegetables, depending on the size they are cut they might be done, the fish will take 20 minutes.
Dish up and enjoy the meal, this is one of my favorites!