Alaska Halibut with Dill Sauce
---
---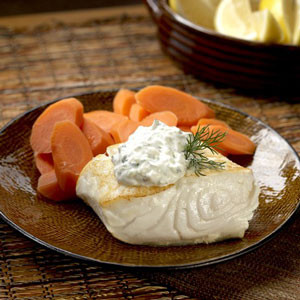 INGREDIENTS
Olive oil
Salt and pepper to taste
1/4 cup Chardonnay
Cucumber-Dill Sour Cream Sauce (recipe follows)
Garnish: lemon wedges and fresh dill sprigs
Cucumber-Dill Sour Cream Sauce
1/2 cup regular, light or fat-free sour cream
1 tablespoon fresh lemon juice
2 teaspoons grated lemon zest
1 teaspoon minced garlic
1 Tablespoon chopped fresh dill or 1 teaspoon dried dill weed
1/4 cup grated cucumber (squeeze dry)
Salt and pepper
DIRECTIONS
Make the sauce first and keep refrigerated. Bring it to room temperature and stir it well before serving.
Mix sour cream, lemon juice and zest, and garlic. Stir in dill and cucumber; season with salt and pepper to taste. Refrigerate, covered, until ready to serve.
Preheat oven to 450°F. Rinse any ice glaze from frozen Alaska Halibut under cold water; pat dry with paper towel. Heat a large heavy ovenproof skillet over medium-high heat. Brush both sides of halibut with oil. Place halibut in heated skillet and cook, uncovered, about 3 to 4 minutes, until browned. Shake pan occasionally to keep fish from sticking.
Turn halibut over, season with salt and pepper, and cook 2 minutes more. Remove pan from burner and add wine to pan. Place pan in preheated oven and cook for an additional 6 to 8 minutes for frozen halibut or 3 to 4 minutes for fresh/thawed fish. Cook just until fish is opaque throughout.
Transfer halibut to warm plates and dollop with 2 tablespoons sauce per portion; garnish with lemon wedges and fresh dill. Pass the remaining sauce on the side.
Nutrients per serving: 292 calories, 13g total fat, 4.5g saturated fat, 41% calories from fat, 74mg cholesterol, 37g protein, 3g carbohydrate, 0.2g fiber, 177mg sodium, 110mg calcium, and 750mg omega-3 fatty acids.