Baja-Alaska Halibut Sandwich
---
---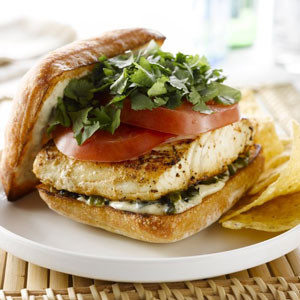 INGREDIENTS
Kosher salt and black pepper, to taste
1 tablespoon ground cumin, divided
1/3 cup olive oil
3 tablespoons fresh lime juice
1-1/2 tablespoons minced garlic
1 cup regular or low-fat mayonnaise
2 tablespoons sweet pickle relish
1 tablespoon Dijon-style mustard
1 teaspoon cracked black pepper
4 sandwich rolls, split
1/2 cup roasted poblano chiles, peeled, seeded and chopped
8 tomato slices
1 cup cilantro leaves
DIRECTIONS
Marinade: Season Alaska Halibut fillets with kosher salt, black pepper and 2 teaspoons cumin; place in 9×13-inch pan. Whisk together oil, lime juice and garlic; pour mixture over halibut; turn halibut to coat all sides. Cover and refrigerate for 30 minutes before using.
Cumin Tartar Sauce: In small mixing bowl, blend mayonnaise, relish, mustard, one teaspoon cumin and black pepper. Cover and refrigerate until serving.
Heat a ridged stovetop grill pan over medium-high heat. Remove halibut fillets from marinade; place in heated pan and cook, uncovered, about 3 to 4 minutes, until browned. Shake pan occasionally to keep fish from sticking. Turn fillets over and cook just until fish is opaque throughout, about 4 minutes.
Griddle (or toast in oven) cut side of rolls until golden. Spread cut side of each roll bottom with two tablespoons of tartar sauce. Layer with 2 tablespoons roasted chiles, a halibut portion, 2 tomato slices, and 1/4 cup cilantro leaves; cover with roll tops.
Cook's tip: Alaska Halibut fillets can also be broiled, grilled or baked.
Nutrients per serving: 678 calories, 31g total fat, 5g saturated fat, 41% calories from fat, 45mg cholesterol, 39g protein, 62g carbohydrate, 3g fiber, 1188mg sodium, 167mg calcium and 720mg omega-3 fatty acids.