Catalonian Wild Alaska Cod Soup
---
---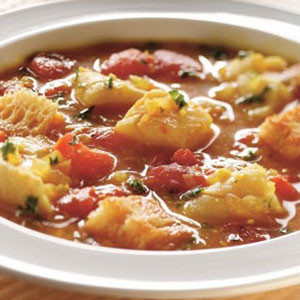 INGREDIENTS
1/3 cup pine nuts OR slivered almonds, toasted
4 large garlic cloves, minced
2 cups chopped onions
1 tablespoon olive oil
1 large pinch saffron OR 1/2 teaspoon turmeric
1 can (28 oz.) diced tomatoes, drained
2 cans (14.5 oz. each) fat-free chicken broth
2/3 cup dry white wine (OR additional 1 cup chicken broth)
1/2 cup chopped fresh parsley OR 2 Tablespoons dried parsley
4 slices Italian bread, cut into bite-size pieces and toasted, OR 1-1/2 cups croutons
DIRECTIONS
In food processor or blender, grind nuts and garlic to a paste.
In a large (12-inch) nonstick pan or stockpot, cook onions in olive oil over medium heat 3 to 5 minutes, until lightly golden. Add garlic paste, saffron, tomatoes, chicken broth, and wine. Bring to a simmer; cook 10 minutes. Rinse any ice glaze from frozen Wild Alaska Cod under cold water. Turn off heat and gently add seafood to liquid, skin side down. Return heat to a simmer.
Once simmering, cover pan and cook 4 to 5 minutes for frozen Wild Alaska Cod or 2 minutes for fresh/thawed fish. Turn off heat and let seafood rest 5 minutes or until seafood is opaque throughout. Break Wild Alaska Cod into large chunks. Stir in parsley and bread and cook 3 minutes. Serve hot.
Nutrients per serving: 439 calories, 12g total fat, 1g saturated fat, 24% calories from fat, 63mg cholesterol, 44g protein, 34g carbohydrate, 7g fiber, 626mg sodium, 170mg calcium and 420mg omega-3 fatty acids.
Variation: Substitute Alaska Pollock or Sole fillets for Wild Alaska Cod. Adjust cook time for smaller fillets if necessary. This soup is also excellent when made with Alaska Halibut!