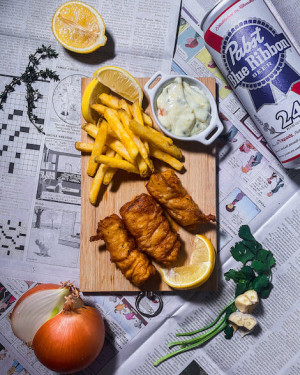 VIDEO
Beer Battered Cod from Sammy Singleton on Vimeo.
This Easy Crispy Beer Battered Cod Fish Recipe has a luxurious, crispy coating with tender flaky fish underneath.
PREP TIME: 15 min
COOK TIME: 15 min
TOTAL TIME: 30 min
SERVES: 4
INGREDIENTS
2 lbs. Alaskan Cod
1 cup all-purpose flour
½ tsp black pepper
1 tsp salt
2 tsp onion or celery salt
1 tbsp garlic powder
½ tsp dried oregano
½ tsp dried thyme
½ tsp dried basil
1 tbsp paprika
½ tsp cayenne (optional)
1 large egg, lightly beaten
1 1/3 cups beer
Canola oil for frying
This Crispy Beer Battered Cod Fish Recipe is made with easy ingredients you already have in your kitchen, elevated with an addictive blend of seasonings to create a delicious, flaky coating. Pair with tartar sauce, malt vinegar and chips or make yourself some crispy fish tacos!
How to Pick Your Beer:
Beer battered…but what kind of beer? And what is it doing? Basically, the beer has a large amount of CO2 gas in the can which keeps the batter airy and flaky. The type of beer doesn't really matter, but if you pick the right beer, it can add an amazing flavour to your fish coating. While aggressively hoppy beers, like IPAs, can leave your batter with a bitter taste, opting for something with a more malty/bready flavour can add to the delicious batter-y flavour already present. The classic choice is a Macro Lager (PBR, Coors Banquet, Old Milwaukee). For a rich malty option, a British Bitter (Deschutes Brewery's Bachelor ESB) is a good choice. And for a bit sweeter option, go for an Ale (Widmer Brother's Drop Top Amber Ale, Newcastle Brown Ale, etc). I keep it simple and use PBR since it has the mildest flavour and I want the seasoning and fish to shine in this recipe, but if you feel like changing the seasoning up, play around with these other beer options to match the spices you choose.
Why is Cod Fish the Best for Frying?
Alaska Cod fillets offer a thick, ultra-flaky fillet that melts under the crunch of the batter.
What You Need for The Batter:
All Purpose Flour
Egg – Creates a smooth texture and binds the ingredients together around the cod fillets
Beer – The type of beer doesn't really matter but I like to use a light flavoured beer like PBR to let the seasoning and cod fish shine
Oil – Use a clear, flavourless oil like Canola oil to get a beautiful golden fry
Seasoning blend – Onion salt, garlic powder, oregano, thyme, basil, paprika, cayenne, and black pepper blend together to add an addictive flavour to the batter and cod fish
Frying Tips and Tricks:
Pat dry and season: Using a paper towel to pat your cod fish dry and seasoning with salt and pepper before dipping it into the batter helps the batter stick to the fillets and fully coat them.
Oil Temperature: Keeping your oil at a consistent 375 degrees F ensures your fish will have a crisp, non-soggy fry. If it doesn't reach this temperature, moisture will be trapped in your batter and it won't crisp up like you want.
Avoid over-crowding: Frying just a few fillets at a time keeps the oil hot and prevents cod fish pieces from sticking together while cooking.
Use a cooling rack: Using a cooling rack allows the fish to cool down without creating steam pockets between the paper towel/plate and the fish. Use a cooling rack to keep your cod fish fillets nice and crisp!
DIRECTIONS
Add oil to a large, heavy bottomed pot or deep fryer till it's about 2 to 3 inches deep. Heat oil to 375 degrees F.
Meanwhile, cut fish into stick shapes, about 1 inch wide and 3 inches long. Pat dry with paper towels and season with salt and pepper.
To make the beer batter, whisk together the flour, garlic powder, paprika, pepper, oregano, thyme, basil, onion salt and cayenne. Stir in the lightly beaten egg, then gradually whisk in the beer until the batter forms and is no longer lumpy.
Quickly dip the fish one piece at a time into the batter, then place in the hot oil. Cook for 3 to 4 minutes, or until the fish is a nice golden brown. Drain on a wire rack and enjoy while hot!
Recipe by Sammy Singleton