Lemon Garlic Cod with Baby Broccolini Baked in Foil
---
---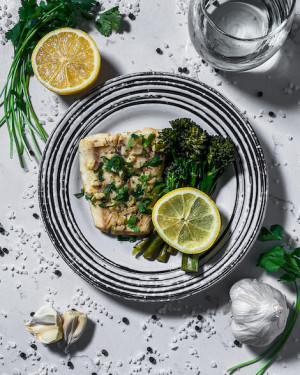 VIDEO
Lemon Garlic Foil Baked Cod from Sammy Singleton on Vimeo.
PREP TIME: 5 min
COOK TIME: 15 min
TOTAL TIME: 20 min
SERVES: 2
INGREDIENTS
2 Cod fillets
2 tablespoons vegetable broth
Juice of 1 Lemon
1 tsp brown sugar or honey
4 garlic cloves, minced
Salt and fresh ground black pepper, to taste
4 tablespoons butter, diced into small cubes
2 tablespoons fresh chopped cilantro
8 oz Broccolini, woody ends trimmed
This Lemon Garlic Cod recipe comes together in around 20 minutes with ingredients you'll likely already have around your house! All baked in a no-mess foil packet, your perfect, flaky cod will be lathered in a sweet, garlic.
Why is foil the perfect baking method for Alaska Cod?
Foil keeps all those delicious juices and seasonings contained around your fillets the whole process of cooking, creating a deep flavour throughout the flakes. It also acts as a steam pouch as it doesn't release moisture, making the cod fillets ultra-moist and flaky.
What You'll Need
Cod: Using Alaska wild salmon will get you the thickest fillets
Brown Sugar: adds the perfect sweetness to the sauce
Garlic: Garlic and fish are just correct together (I personally double the amount of garlic for this recipe)
Vegetable Broth: Vegetable broth acts as a base for the sauce
Butter: I use unsalted so I can control the amount of salt in this recipe - nothing worse than overly salty fish
Broccolini: Asparaguses fabulous cousin
Spices: To let the brown sugar, garlic and lemon shine, we'll limit the seasoning to salt, pepper and fresh cilantro to add dimension
Lemon: Lemon is the best friend of any and all seafood to cut through the oils in the fish and any added butter
How Long Should You Bake Alaska Cod Fish at 400ºF?
I like to cook my cod fish at 400°F for 10-15 minutes. Additionally, you can open the foil around the cod fillets and put it under the broiler for 2-3 minutes afterwards to give it nice browned, crispy edges.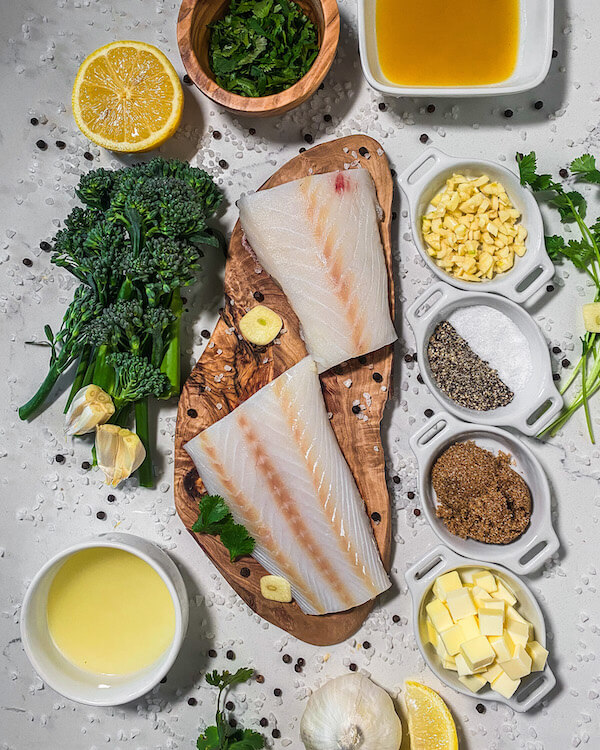 DIRECTIONS
Preheat your oven to 400ºF. Cut 2 sheets of 14 by 12-inch heavy-duty aluminium foil then lay each piece separately on the countertop.
In a small bowl, combine the broth, ½ of the lemon juice, vegetable broth, and brown sugar or honey.
Pat the cod filets dry with a pepper towel and season both sides of the fillets with salt and pepper. Place 1 cod fillet onto each piece of aluminium foil near the centre then place the broccolini to one side of the cod fillets, following the long direction of the foil. Fold the aluminium sides slightly to avid liquid spillage.
Sprinkle garlic on top of the filets and drizzle the broth and lemon sauce generously over the cod fillets and broccolini.
Layer the butter pieces over the cod and broccolini, dividing the butter evenly among the foil packets.
Wrap the cod foil packets up and crimp edges together then wrap ends up. Don't wrap too tight – keep a little extra space inside for heat to circulate.
Transfer the cod foil packs to a baking sheet, sealed side upward, and bake the cod in the oven until cod has cooked through, about 10-15 minutes.
Unwrap the baked cod fish foil packets then drizzle with the remaining lemon juice. Garnish with fresh cilantro and a slice of lemon.
Recipe by Sammy Singleton