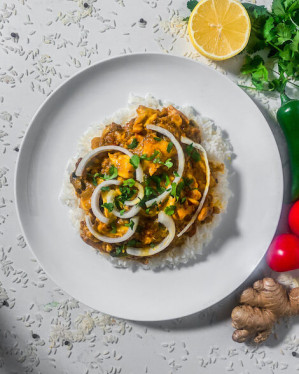 VIDEO
Cod Tikka Masala from Sammy Singleton on Vimeo.
PREP TIME: 15 min
COOK TIME: 1 hour
TOTAL TIME: 1 hour, 15 min
SERVES: 6
INGREDIENTS
1 ½ cups full-fat plain yogurt
2 tablespoons lemon juice
1 ½ tablespoons ground turmeric
2 tablespoons garam masala
2 tablespoons ground cumin
1 Tablespoon ground coriander
¼ cup unsalted butter
4 teaspoons coconut oil
2 medium-size yellow onions, diced
5 cloves garlic, minced
3 tablespoons fresh ginger, peeled and grated
1 tablespoon cumin seeds
1 cinnamon stick
2 medium-size tomatoes, diced
1 jalapeño pepper, seeded and diced
Salt to taste
⅔ cup vegetable stock
1 can coconut cream
1 ½ teaspoons tomato paste
3 tablespoons finely chopped or ground almonds
½ cup cilantro leaves with stems removed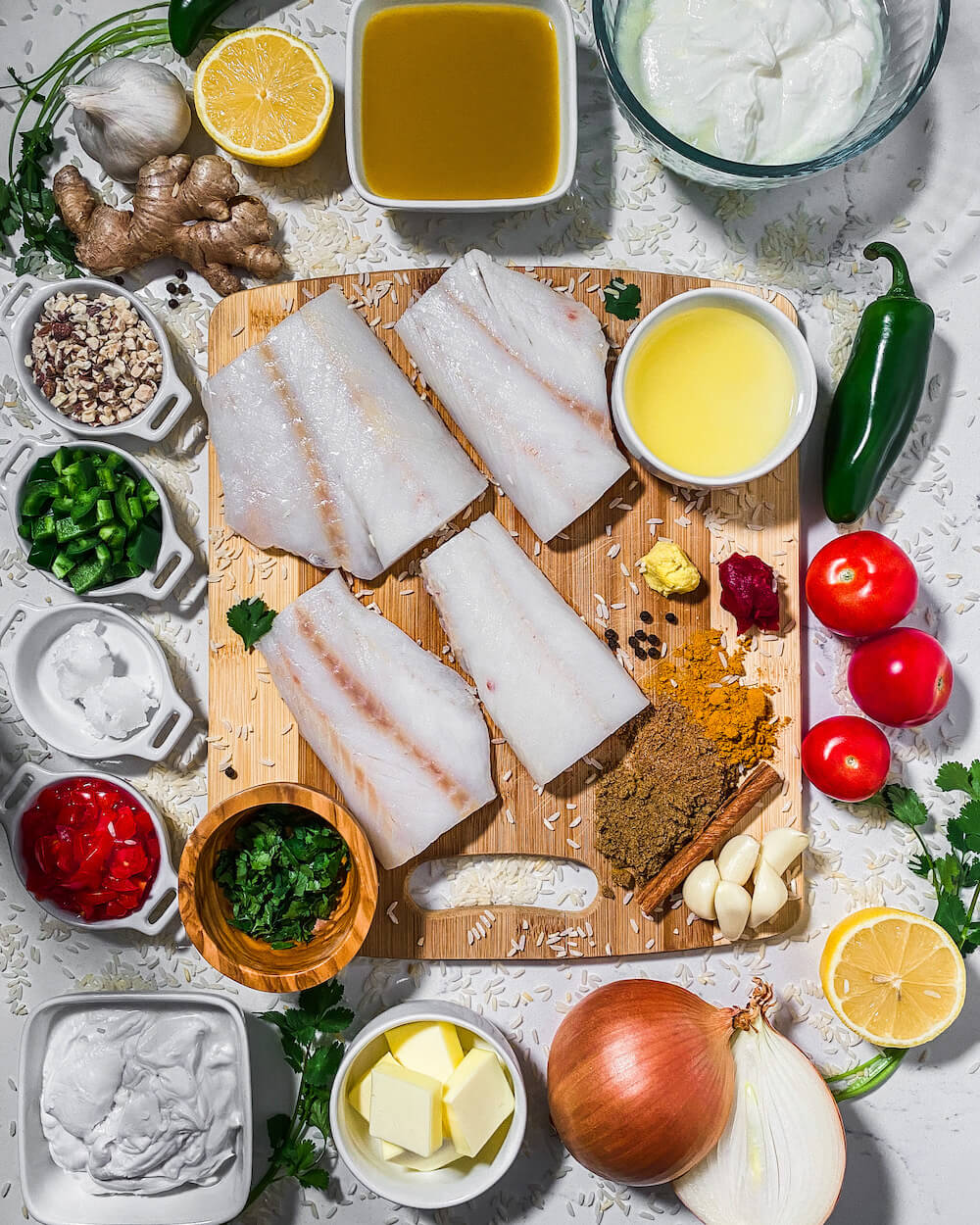 A simple yet deep and flavorful Cod Tikka Masala recipe! Made with flaky cod fish, fresh tomatoes, creamy coconut milk, and seasonings you already have in your pantry! Simple, delicious, and it's all cooked in one pan! Serve with basmati rice, grilled vegetables, and some naan.
How to Prepare your spices:
While there are a lot of ingredients to this recipe, the recipe in itself is fairly simple if you want to go with store bought spices and curry pastes. But if you're looking for a simply way to boost the flavor in your cod fish, skip the pre-ground cumin and buy it in raw seed form, right before cooking with them, toast the cumin in a medium low skillet for a few minutes and grind it in your mortar and pestle or food coffee grinder.
How is the Cod Fish cooked in tikka masala?
This one–pan recipe slowly cooks the cod fish in its marinade and vegetable stock ensuring flaky, butter cod fillets packed with a rich flavor palette.
What are the health benefits of Alaska Cod in this recipe?
This recipe is not only packed with Alaska Cod that is rich in amino acids, key minerals and vitamins A and E and has a perfect low amount of healthy fats, you also get the anti-inflammatory and immune building benefits of turmeric, ginger and lemon. We've replaced the yogurt that is typically added to Tikka Masala recipes with coconut cream for everyone out there that is trying to avoid unnecessary dairy, which seems to be everyone these days.
Spices:
Turmeric
Garam Masala
Cumin
Cinnamon
Coriander
Ginger
DIRECTIONS
In a large bowl, stir together the yogurt, lemon juice, turmeric, garam masala, coriander and cumin. Place the cod filets in the marinade, coating them generously. Cover the bowl and refrigerate for at least an hour. You can start the marinade the night before and marinade for up to a day.
Melt the butter and oil in a large pan over medium heat until it starts to foam. The moment you see the butter start to brown (about 5 minutes), add the onions and stir frequently until translucent. Add the garlic, ginger and cumin seeds, continuing to cook until the onions start to brown.
Next add the cinnamon stick, tomatoes, jalapeño and salt, and cook until the pepper is soft. This will take about 10 minutes.
Place the cod fish and marinade in the pan and cook for 5 minutes. Add the vegetable stock and bring the mixture to a boil. Lower the heat and simmer immediately. Leave uncovered and simmer for approximately 30 minutes.
Remove the cinnamon stick and add in the coconut cream and tomato paste. Simmer until the cod is cooked through and the sauce is thickened, approximately 10 to 15 minutes.
Add the chopped almonds and cook for an additional 5 minutes. Remove from the heat and serve garnished with the cilantro leaves and onions.
Recipe by Sammy Singleton