Curry Cod Cakes with Mango Raita Sauce
---
---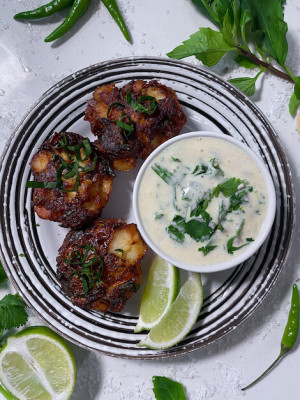 VIDEO
Cod Curry Cakes from Sammy Singleton on Vimeo.
PREP TIME: 55 min
COOK TIME: 5 min (per batch)
TOTAL TIME: 60 min
SERVES: 4
INGREDIENTS
COD CAKES:
4 peppercorns
1 tsp Coriander seeds
1 tsp Cumin Seeds
1 cinnamon stick
2 limes, cut into eighths
2 tablespoons unsalted butter
1 red or orange bell pepper, seeded and diced
1 medium-size red onion, peeled and diced
4 cloves garlic, peeled and minced
1 heaping tablespoon mayonnaise, homemade or store-bought
2 teaspoons coconut cream (no liquid, just the coconut fat)
2 eggs
1 ½ teaspoons kosher salt
½ teaspoon freshly ground black pepper
2 teaspoons red or yellow curry paste
1 ''sleeve'' unsalted saltine crackers, crushed, or 1 heaping cup panko bread crumbs
¼ cup of Thai Basil, roughly chopped (plus extra for platting)
½ tablespoon fish sauce
1 tsp brown sugar
¼ cup neutral oil, like canola
RAITA SAUCE:
3 cups plain yogurt
1 tsp salt
½ red onion
1 tsp cumin powder
1 green chili pepper
¼ cup cilantro, finely chopped
½ of a mango, cubed
1 cucumber, cubed
If you love Indian food as much as we do, this Cod Cakes recipe is for you! Packed with all the spices you love from your local Indian restaurant, packed in a two bite sized cod cake, perfect for hors d'oeuvres or as the main entrée. Serve with homemade Mango Raita, lime wedges and fresh basil for even more bursts of flavor!
ABOUT THE COD CAKES:
Coriander seeds, cumin seeds, cinnamon stick: Try toasting and gently crushing the coriander and cumin seeds before cooking to release even more flavor into the cod fillets
Curry Paste: The base for any great curry dish
Alaskan Cod Fillets: This recipe using a boiling technique to cook the cod, allowing the spices in the water to combine with the cod
Onion, Garlic, Ginger: Three key aromatics for any curry dish Coconut Cream: Used to bring a rich, creaminess to the curry flavor and texture
Thai Basil: A great pop of color and fresh flavor
Saltine Crackers, Mayo, Eggs: Used as binding agents for the cod cakes
Canola Oil: Any neutral clear oil is perfect for frying the cod fillets without adding any unwanted flavor
Fish Sauce: Even the smallest amount of fish sauce adds that secret touch and depth to this dish
Brown Sugar: Even curry needs a hint of sweetness
Bell Peppers: A great pop of color, texture, and a sponge for flavor
---
DIRECTIONS
Fill a shallow, wide pan with high sides with about an inch of water, and set it over high heat. Add the peppercorns, cumin seeds, the cinnamon stick, coriander seeds and 2 slices of lime to the water, and allow it to come to a bare simmer. Place the fish into this poaching liquid, and cook for approximately 6 to 8 minutes in barely simmering heat until the flesh has just begun to whiten all the way through. Using a wide spatula, carefully remove the fish from the water, and set aside to cool on a plate or cutting board covered in paper towels to absorb water.
Empty the pan, and return it to the stove, over medium-high heat. Add the butter, and allow it to melt, swirling it around the pan. When the butter foams, add the peppers, onions and garlic, and sauté, stirring often, until the vegetables soften and the onions turn translucent, then transfer them to a large bowl.
In a small bowl, mix together the mayonnaise, coconut cream, eggs, salt, pepper and curry paste, brown sugar, fish sauce and Thai basil, then add this mixture to the bowl with the sautéed vegetables, pour the crushed saltines or bread crumbs over them and stir to combine. Add the parsley, and stir again.
Flake the cooked fish into the binding sauce carefully, keeping the flakes as whole as you can manage, then gather them into small balls using a ¼ measuring cup, and form them into patties. 1 tablespoon balls work great for appetizers. Place them on a sheet pan or platter, cover loosely with plastic wrap and transfer them to the refrigerator for at least 30 minutes to set.
Meanwhile, in your food processor or blender combine your yogurt and mango. Transfer to a small bowl and add your finely chopped onions, green peppers, cucumber, cumin, and salt. Top chopped cilantro and store in the fridge until ready to serve.
Set a large sauté pan over high heat, and add to it the neutral oil. When the oil is shimmering, remove the fish cakes from the refrigerator, and carefully sauté the patties until they are golden brown, approximately 4 to 5 minutes a side. Work in batches if necessary. (A small smear of mayonnaise on the exterior of the patties will give them a crisp crust.) Serve them topped with Thai basil and lime wedges and mango raita.
Recipe by Sammy Singleton