Crunchy Miso Chili Cod with Brussel Sprouts
---
---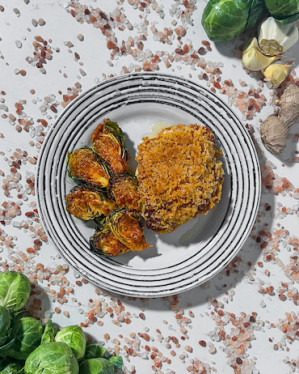 VIDEO
Crunchy Miso Cod with Brussel Sprouts from Sammy Singleton on Vimeo.
PREP TIME: 5 min
COOK TIME: 20 min
TOTAL TIME: 25 min
SERVES: 4
INGREDIENTS
12 Brussel sprouts, halved
2 tsp Olive Oil
Salt to taste
5 Tbsp unsalted butter
6 Tbsp white or yellow miso
1 Tbsp plus 1 ½ tsp. Gochujang chili paste
1 Tbsp Brown Sugar
10 Garlic cloves
1 4" piece of ginger, peeled and grated
2/3 cup Panko
Need the perfect dish to impress that special someone? Look no further than this yummy and crunchy cod made with miso paste (from scratch!) and roasted Brussels sprouts.
---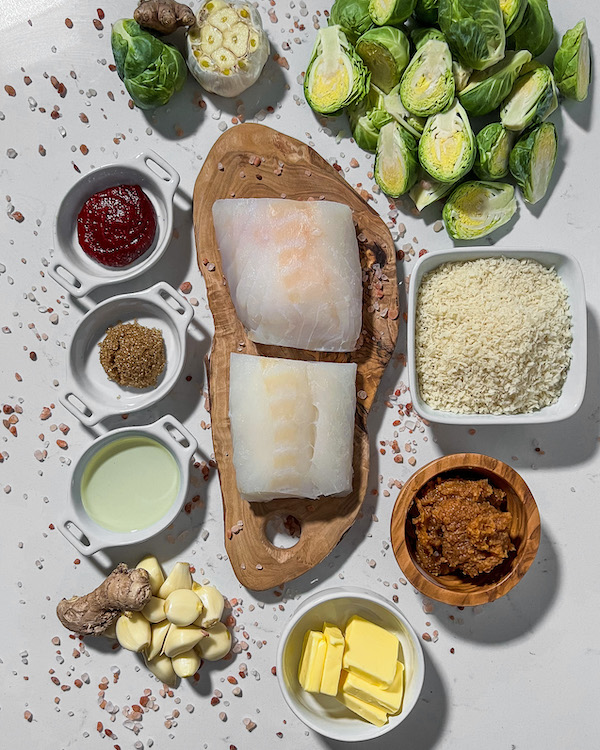 DIRECTIONS
Preheat oven to 400 degrees and line a rimmed baking sheet with foil. Place halved Brussel sprouts on one side of pan and drizzle with olive oil and salt. Using a paper towel, pat dry your Alaska Cod Fillets and place them on the empty side of the baking sheet.
To prepare the Miso butter, mix 3 tbsp room temperature butter, your white or yellow miso, brown sugar, Gochujang, garlic gloves and ginger in a small bowl. In a separate bowl mix the remaining 2 tbsp of butter, melted, and the panko crumbs. Use about ¾ of the miso mixture to coat your cod fillets. Pat the buttered Panko crumbs onto the top of each fillet firmly. Bake in the oven until cod is firm but flakey – about 15 minutes.
Switch oven to a low broil and allow panko crumbs to brown for about 3-5 minutes. Rotate pan halfway for even browning.
Remove from oven and add the remaining miso butter to your Brussel sprouts and toss to combine and serve.