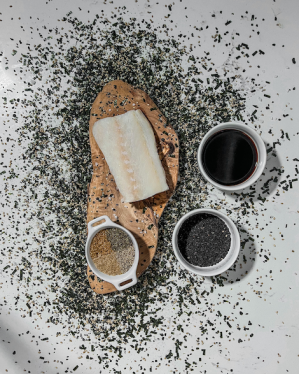 VIDEO
Sesame Crusted Cod from Sammy Singleton on Vimeo.
PREP TIME: 15-18 min
COOK TIME: 2 min
TOTAL TIME: 20 min
SERVES: 2
INGREDIENTS
1 Tbsp soy sauce or gluten free liquid aminose
2 Tbsp High heat oil for searing (peanut oil, avocado oil, coconut oil)
3 Tbsp sesame seeds (black or both black and white)
1 tsp garlic powder (or onion powder)
1 tsp Salt
1 tsp Fresh Cracked Pepper (or more)
1 tsp Brown Sugar
1 tsp dried thyme
An elegant and dramatic dish, sesame crusted cod couldn't be easier to whip up, along with a side of Furikake rice (pictured) or a cucumber salad. Try it tonight!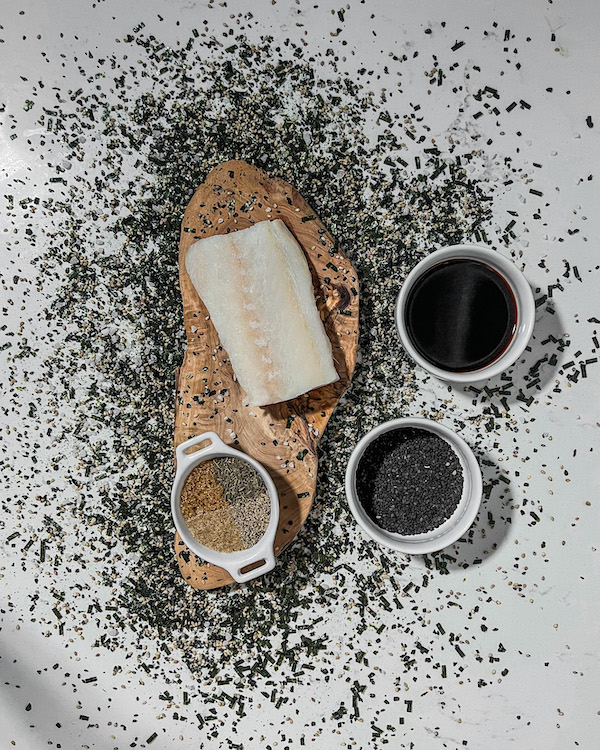 ---
DIRECTIONS
Preheat own to 425 degrees. Line a rimmed baking tray with foil.
In a small bowl, combine sesame seeds, garlic powder, salt, pepper, brown sugar and thyme.
Pat Cod Fillets dry with paper towels.
Working one at a time, dip the fillets in soy sauce. This will help our sesame mix adhere. Generously sprinkle sesame mixture on all side of the cod, pressing firmly into the fillet.
This next part goes quickly. Get a pan, ideally cast iron, heated on medium-high heat with your oil. Once very hot, place the fillets in the pan, searing each side for 45-60 seconds until the sides become golden. Use tongs to hold fillets upright to sear any sides (i.e. along cut lines).
Place your seared fillets on your baking tray and get them in the oven as quickly as possible. Bake for 10-12 minutes until cooked all the way through and flakey. Serve with Furikake rice or Asian Cucumber salad.
Recipe by Sammy Singleton