Easy Lemon Drop Cod with Pistachio Pesto
---
---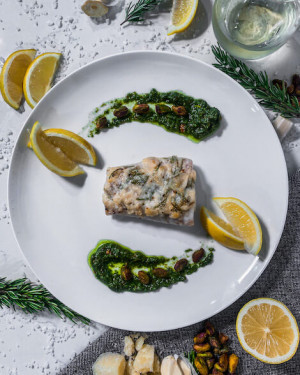 VIDEO
Sammy Singleton's Lemon Drop Cod with Pistachio Pesto recipe for Alaskan Leader Seafoods.
Music: Cold Heart by Elton John, Dua Lipa and PNAU
PREP TIME: 10 minutes
COOK TIME: 10-15 minutes
TOTAL TIME: 25 minutes
SERVES: 4
INGREDIENTS
COD
½ teaspoon salt
¼ black pepper
¼ cup softened butter
2 tablespoons freshly grated parmesan cheese
1 tablespoon all-purpose flour (optional)
3 cloves garlic minced
1 teaspoon dried rosemary
2 lemons juiced
Additional lemon slices or wedges for serving
PESTO
2 cups fresh basil leaves (no stems)
2 tablespoons pistachios
3 large cloves garlic
½ cup extra-virgin olive oil
½ cup freshly grated parmesan cheese
This easy but gourmet cod recipe is exploding with a lemon burst that's soothed by a rich pistachio pesto sauce makes for an easy and delicious dinner!
ABOUT ALASKA COD
IS COD FISH HEALTHY?
Cod is packed with lean protein and vitamin B-12 making it the ultimate workout and healthy lifestyle food. Cod is known for being a little higher in sodium, but when consumed in moderation it is still a very healthy option. There are two types of cod that you will typically find, Atlantic Ocean cod fish and Pacific Ocean cod fish. Pacific cod, like the Alaska cod we fish for, gives you thicker, larger fillets. Both types of cods are great sources of omega 3 fatty acids that are great for the heart as well as many other vitamins and minerals. Supplemented with other nutritious veggies and grains, Cod fish is a great addition to any healthy diet and lifestyle.
DOES COD CONTAIN MERCURY?
Cod fish very low is mercury, especially compared to other seafoods. The FDA recommends 2 to 3 servings of cod or similar low mercury fish for children and pregnant woman. If you have more questions about what fish can be a healthy choice for you and your lifestyle, check out the FDA guidelines here.
WHAT IS THE BEST WAY TO COOK COD FISH?
It's super simply to bake cod, though many prefer searing it first or fulling cooking it in a cast iron skillet. Although cod naturally has a great flavor, using a cast iron skillet gives cod fish a delicious flavor of its own. If you do want to bake your cod, just preheat your oven to 400 degrees F, lightly grease a baking dish, add your seasoning and butter mixture to the cod and bake the cod in a preheated oven for about 10 minutes. Actual cooking time will depend on the thickness of your cod fish filets. You will know the fish is done when it flakes easily with a fork.
HOW LONG SHOULD YOU BAKE YOUR COD FISH?
Cod cooks really quickly in a 400-degree oven. If your oven is pre-heated it should only take about 10 – 12 minutes depending on the thickness of your fish. Many prefer cooking cod at a lower temperature for longer. At 350 degrees F expect the cod to take 25 – 30 minutes to complete the cooking process. I like to leave my baking dish in the oven while it preheats so the fish doesn't cool down on a cold dish. Only do this if you have the ingredients pre-prepped as you don't want a greased baking dish in the oven for too long causing the butter to burn and adding a strange flavor to the cod fish.
---
DIRECTIONS
Add basil leaves, pistachios, and garlic to a food processor and process until finely minced. Leaving the machine running, slowly drizzle in the oil and process until smooth. Finally, add the parmesan and process just long enough to incorporate. This pesto can be made ahead of time and stored in your refrigerator or freezer. I always make extra to freeze and use on future recipes.
Preheat the open to 400 degrees F and lightly grease your 9x13 baking dish.
Lay the cod filets out in the baking dish. Season the fish with salt, pepper and half of the lemon juice.
In a small bowl, stir together the butter, parmesan, flour, garlic, rosemary, and the remaining lemon juice. The flour is optional but it adds a nice crisp.
Coat the top of each filet with a generous spoonful of the butter mixture.
Bake in the preheated oven for about 10-15 minutes. Cooking time will vary depending on the thickness of your fish and whether it is fully thawed out of not. The fish is ready when it easily flakes with a fork.
Serve immediately with lemon wedges and pesto drizzled over the top or on the side.
Recipe by Sammy Singleton