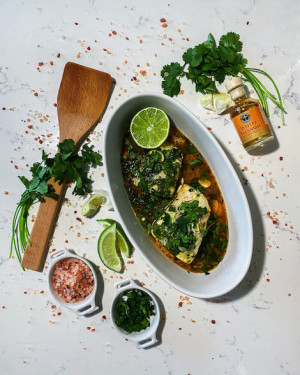 INGREDIENTS
4 portions cod fish fillets
½ teaspoon salt
¼ black pepper
2 tablespoons softened butter
1/3 cup olive oil
1 tablespoon all-purpose flour
3 cloves garlic, thinly sliced
1 tablespoon freshly chopped cilantro, have extra for serving
1 teaspoon paprika
1 tsp Dijon mustard
1 lime juiced
Additional lime slices or wedges for serving
Lime and salt aren't just for margaritas? I'm shocked. Here is our new easy lime cilantro cod recipe - Save this page so you can make this recipe again later!
PREP TIME: 5 minutes
COOK TIME: 10-15 minutes (depending on thickness of cod fillets)
TOTAL TIME: 20 minutes
SERVES: 4
---
DIRECTIONS
Preheat the oven to 400 degrees F and lightly grease your 9x13 baking dish.
Lay the cod fillets out in the baking dish. Season the fish with salt and pepper.
In a small bowl, stir together the butter, oil, flour, garlic, paprika, cilantro, Dijon mustard and lemon juice. The flour is optional but it adds a nice crisp.
Coat the top of each fillet with a generous spoonful of the butter mixture.
Bake in the preheated oven for about 10 -15 minutes. Cooking time will vary depending on the thickness of your fish and weather it is fully thawed out of not. The fish is ready when it easily flakes with a fork.
Serve immediately with additional lemon wedges and fresh cilantro.
Recipe by Sammy Singleton