Pineapple Teriyaki Cod Tacos
---
---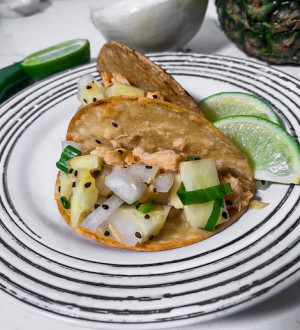 VIDEO
Cod Teriyaki Tacos from Sammy Singleton on Vimeo.
PREP TIME: 20 min
COOK TIME: 10 min
TOTAL TIME: 30 min
SERVES: 2
INGREDIENTS
1 2" piece ginger, peeled, finely grated
3 garlic cloves, finely grated
½ Tbsp. Chili paste (like Gochujang)
1/4 cup Soy Sauce
1 Tbsp. Oyster Sauce
1/3 cup white wine vinegar
4 Tbsp. fresh lime juice, divided
3 Tbsp. canola or vegetable oil, divided
1 ½ tsp. salt, plus more
1 1½-lb. Alaska Cod Fish Fillets, cut into 2" pieces
2 Thai chilis or serrano peppers, finely chopped (seeds removed for less spice)
½ white onion, finely diced
2 ½ cups chopped pineapple (from about ½ medium pineapple)
2 Tbsp. Black or regular sesame seeds (optional but delicious)
½ cup chopped green onions, plus extra for serving
Lime wedges and toasted corn tortillas (for serving)
Spicy and sweet, these teriyaki cod tacos come together with a delicious pineapple salsa that is sure to wow the crowd!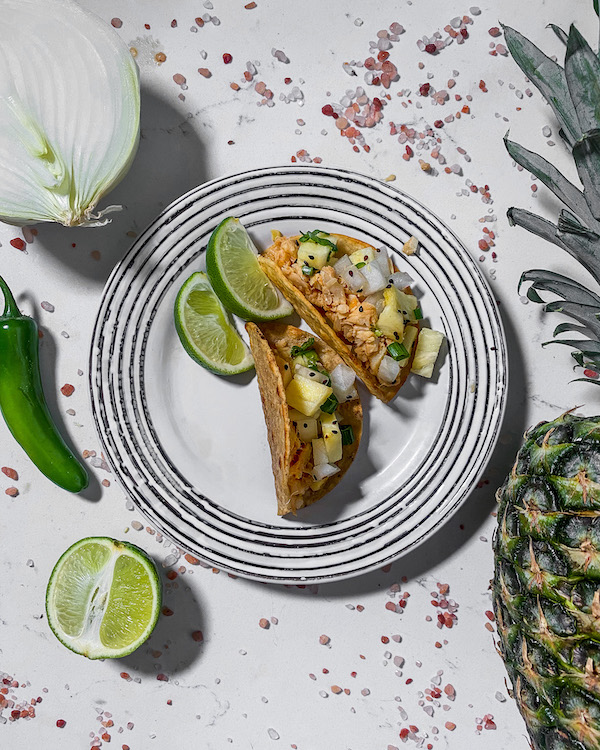 ---
DIRECTIONS
In your food processor, add ½ cup of the chopped pineapple and process until it is smooth and pureed. In a medium bowl, stir together the pineapple puree, ginger, garlic, 2 Tbsp. lime juice, chili paste, oyster sauce, soy sauce, vinegar, 1 Tbsp. oil, and 1½ tsp. salt in a medium bowl. Add the cubed cod fillets to the bowl and toss until evenly coated. Let the cod marinate at room temperature for 15 minutes.
In the meantime, mix white onion, chilis, pineapple, ½ cup green onions, and remaining 2 Tbsp. lime juice, and sesame seeds in a medium bowl to create a salsa. Season with salt as needed.
Add the remaining 2 Tbsp. oil in a large non-stick pan and heat over medium-high. Add cod fish with its marinade and reduce heat to medium. Cook, undisturbed, until opaque all the way through and a golden crust forms underneath, about 5 minutes. Turnover and cook until the second side is browned and flesh easily flakes with a fork, about 3 minutes. Transfer the cod pieces to a plate and flake into large pieces with a fork; squeeze a couple of lime wedges over.
Serve the cod with pineapple salsa, green onions, tortillas, and extra lime wedges to build into tacos.