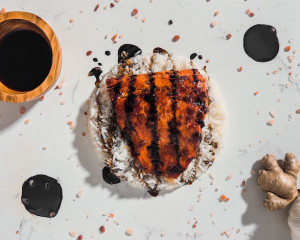 VIDEO
Teriyaki Seared Salmon from Sammy Singleton on Vimeo.
PREP TIME: 20 min
COOK TIME: 5 min
TOTAL TIME: 25 min
SERVES: 4
INGREDIENTS
1 1-inch piece of ginger, grated
2 garlic cloves, grated
3 Tbsp soy sauce
2 Tbsp brown sugar
1 Tbsp rice wine vinegar
1 tsp sesame oil
1 Tbsp Gochujang
Olive oil
Teriyaki marinade and salmon are a match made in heaven. You can do a quick marinade for about 20 minutes, or let it sit overnight to really let the flavors sink in.
Learn more about Alaska Salmon
---
DIRECTIONS
Combine the ginger, garlic, soy sauce, brown sugar, vinegar, sesame oil and gochujang in a bowl.
In a large zip lock bag, place the salmon filets and pour in the teriyaki sauce. Place in the fridge and let marinate for 20 minutes to 2 hours.
Heat olive oil in a large pan over medium heat. When hot, add the salmon skin down to the pan. Reserve the marinade. Cook for 2 minutes and then add the reserved marinade. Cook for another minute, until filets are opaque halfway up, and then flip. Cook on the flesh side for another 3-4 minutes while basting them with the teriyaki sauce. Add a splash of water if the sauce is too thick.
Serve the salmon filets on individual plates, spooning over any sauce left on them and serving with rice and green onions.