Jalapeño Lime Salmon Burgers
---
---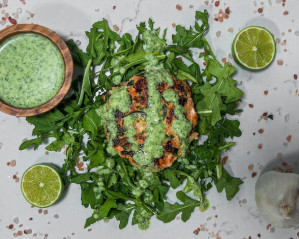 VIDEO
Jalapeño Lime Salmon Burger from Sammy Singleton on Vimeo.
PREP TIME: 10 min
COOK TIME: 5 min
TOTAL TIME: 15 min
SERVES: 2
INGREDIENTS
Burgers
2 tsp Mayonnaise
1 Lime, juiced
4 Garlic Cloves, grated
2 Jalapeños, diced
½ cup cilantro, finely chopped
½ cup coarse bread crumbs
1 Tbsp Honey or Agave
Salt and black pepper
2 Tbsp butter or olive oil
Sauce
2 Jalapeños, halved
1 cup loosely packed cilantro, stems removed
3 tsp Apple Cider Vinegar
¼ cup Sour Cream or Mexican Crema
1 Lime, juiced
2 Garlic cloves, grated
¼ cup olive oil
1 Tbsp Honey or Agave
These burgers are spicy and savory and a fun way to jazz up a salmon burger!
Learn more about Alaska Salmon
---
DIRECTIONS
Combine jalapeños, cilantro, cream, garlic, lime juice, honey/agave and salt in the bowl of your food processor. While the motor is running, add your olive oil and apple cider vinegar slowly until emulsified. Transfer to a bowl and chill in your fridge until ready to serve.
Wipe down your food processor but no need to completely wash it out for this next step. Cut the salmon into large chunks, and put about a quarter of it into the container of a food processor, along with the Mayonnaise, lime juice, and honey or agave. Turn the machine on, and let it run — stopping to scrape down the sides if necessary — until the mixture becomes pasty.
Add the garlic and the remaining salmon, pulsing the machine on and off until the fish is chopped and well combined with the puree. Make sure there are no pieces larger than 1/4 inch or so; additionally, be careful not make the mixture too fine.
Transfer the mixture into a bowl, and by hand, stir in the bread crumbs, cilantro, diced jalapeno and some salt and pepper. Shape into four burgers. (You can cover and refrigerate the burgers for a few hours at this point.)
Heat the butter or oil in a non-stick skillet on medium-high. When the butter foam subsides or the oil is hot, cook the burgers for 2 to 3 minutes a side, turning once. Alternatively, you can grill them for 4 minutes on the first side and 2 or 3 on the second. To check for doneness, make a small cut and peek inside. Serve alone or on brioche buns with your sauce, lettuce, and some crispy jalapeño slices.