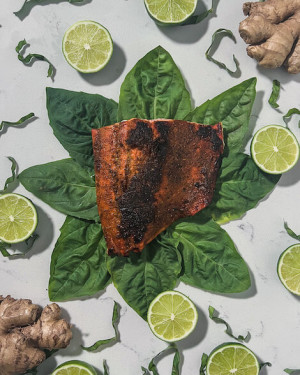 VIDEO
Blackened Curry Salmon from Sammy Singleton on Vimeo.
PREP TIME: 5 min
COOK TIME: 10 min
TOTAL TIME: 15 min
SERVES: 2
INGREDIENTS
1 Tbsp Curry powder
1 tsp freshly ground peppercorns
½ tsp Cumin
½ tsp Cayenne
1 tsp Light or dark brown sugar
1 tsp salt
1 Tbsp red or yellow curry Paste
½ tsp Tamarind
2 Tbsp butter
1 Lime, cut into wedges
½ cup Thai basil, finely chopped
We love this deeply flavorful for a quick kick of spices and flavors that can be served as a main dish or appetizer.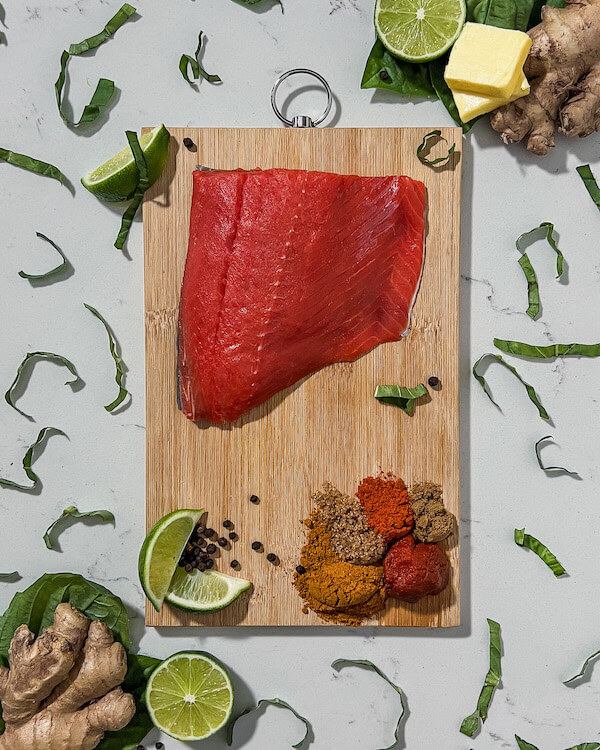 Learn more about Alaska Salmon
---
DIRECTIONS
Place the salmon filets on a large place, flesh side up and pat dry with a paper towel.
In a small bowl, mix together the curry powder, pepper, cumin, cayenne, brown sugar and salt.
In a separate bowl, melt the butter. Mix in the curry paste and tamarind until fully incorporated. Brush the butter mixture over the flesh side of the salmon filets then sprinkle evenly with the spice mixture. Press the spices into the filets as needed to assure adherence.
Heat a large cast iron skillet or non-stick pan over medium heat. No need to add oil or butter. Working quickly once the pan is hot, add the salmon filets flesh side down to the skillet and cook for 2-3 minutes without disturbance, until the surface becomes blackened. Carefully turn over the salmon without scraping the seasoning off.
Continue cooking over medium heat until the skin becomes crispy and the fish is cooked through, about 5-6 minutes depending on thickness. The fish should read 145 degrees F and flake easily with a fork.
Squeeze lime wedges over the salmon and transfer to serving plates. Serve imminently with limes wedges and a sprinkle of your Thai basil.