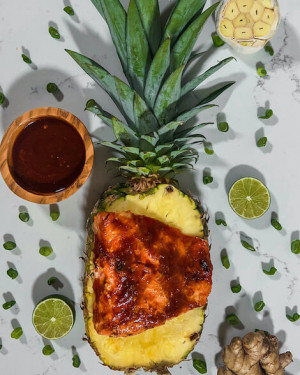 Say hello to warm weather with this tangy and delicious pineapple barbecue salmon! Skip the store bought sauce and make your own with fresh ginger, pineapple, and garlic.
Learn more about Alaska Salmon
---
INGREDIENTS
2 Tbsp grapeseed oil, or other non-smoking oils
2 tsp salt
Thinly slice green onions, for garnish
Barbecue Sauce
¼ cup tomato paste
2 Tbsp hoisin sauce
½ cup apple cider vinegar
¼ cup brown sugar
½ tsp garlic chili sauce
½ cup Pineapple, pureed
1 1-inch ginger piece, grated
2 garlic cloves, grated
1 Lime, zested and juiced
1 tsp freshly cracked pepper
DIRECTIONS
Preheat the grill to high and brush with oil. Meanwhile in a medium saucepan, combine all BBQ sauce ingredients over medium heat, bringing to a simmer for 5 minutes.
Pat salmon filets dry and brush the flesh side with oil. Place them skin side down on the grill. Grill, lid closed for 5 minutes. Flip and brush with BBQ sauce. Cook for an additional 2 or three minutes. Transfer to a platter and gently slide the skin off if you would like.
Brush with more BBQ glaze and serve.