Lemon Ginger Butter Foil Baked Salmon
---
---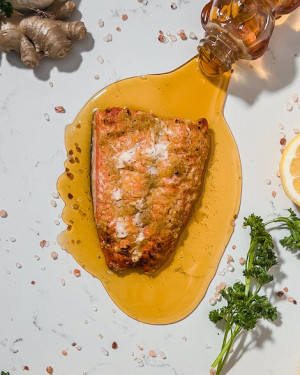 Simple and flavorful, this dish comes together quickly in the oven and can be served with fresh herbs.
Learn more about Alaska Salmon
---
INGREDIENTS
1 1-inch ginger pieces, grated
4 Garlic cloves, grated
2 Tbsp honey
1 Tbsp unsalted butter, melted
½ Tbsp Lemon juice
1 tsp Lemon zest
1 tsp Cumin
Salt to taste
1 tsp Pepper, freshly grated
DIRECTIONS
Preheat the oven to 400 degrees F. Line a baking sheet with two pieces of foil, both large enough to cover one of your salmon filets. Place one Salmon filet in the center of each piece of foil.
In a small bowl, mix together your melted butter, ginger, garlic, honey, lemon juice and zest, cumin, salt and pepper.
Pour half of the mixture over each piece of salmon. Fold the foil over each piece of Salmon.
Place in the oven and cook for about 10-15 minutes. The salmon is done when you can press into the flesh and it springs back.
Remove the salmon and turn your broiler on to high. Unfold your salmon and place back under the broiler for 2-3 minutes to achieve a light browning on the top of the filets.
Remove from the oven and serve with lemon wedges and chopped parsley, cilantro or basil depending on your mood.