Sun-dried Tomato and Parmesan Butter Roasted Alaska True Cod, Potato Croquette, Roasted Broccoli
---
---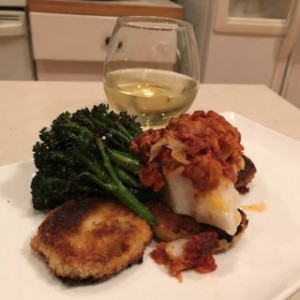 SERVES: 4
INGREDIENTS
4 ea. 5 oz. portions cod
1 batch sun dried tomato butter
1 batch potato croquette
1 batch roasted broccoli
Sun-dried tomato butter
2 oz. sun dried tomatoes, reconstituted in hot water and chopped small
1/8 cup grated and chopped fresh Parmesan cheese
½ each Small shallot minced
½ oz. chopped fresh basil (optional)
¼ cup softened whole butter
1/8 tsp fresh cracked black pepper
¼ tsp sea salt
Mix everything together to make a nice paste, set aside
Potato croquette
2 cups leftover mashed potatoes
1 each Egg
1/8 cup heavy cream
1/8 cup grated and chopped parmesan cheese
2 ea. Green onions, sliced thin
3 Tbsp Flour
¼ cup canola oil (enough to coat the bottom well of a large sauté pan)
For the croquette breading
2 ea. Beaten eggs
1 cup fine chopped bread crumbs (I use panko)
Broccoli
2 heads broccoli, florets cut from the stalk in large pieces
2 Tsbp olive oil
1 small shallot, minced
3 cloves garlic, crushed and minced
3 sprigs fresh thyme, picked and chopped fine
¼ tsp sea salt
1/8 tsp fresh cracked black pepper
Toss everything together and spread out on a baking pan and set aside
ABOUT THE RECIPE
I love making potato croquettes, not only are they delicious but they are a great way to use up leftover mashed potatoes. This is a very simple and delicious way to cook broccoli without overcooking it. If you have a large amount of leftover mashed potatoes, say at thanksgiving, you can make this recipe up and keep the croquettes in the freezer for future use.
Recipe by Chris Garr, Executive Chef of Ivar's.
---
DIRECTIONS
Sun-dried Tomato Butter
Mix the sun-dried tomato butter ingredients together to make a nice paste, set aside.
Potato Croquette
Mix the egg, heavy cream, Parmesan and green onions together, fold the mixture by hand, sprinkle in the flour and fold it into the potato mixture. Form the croquette batter into 8 balls and flatten slightly. Dip the croquettes into the beaten eggs and then roll them in the panko, making sure that the croquettes are fully coated in the panko, set aside for cooking later.
Broccoli
Toss the broccoli ingredients together and spread out on a baking pan and set aside.
Cooking
Heat the oven to 375 degrees, oil all sides of the cod and season each piece with salt and pepper, set it in a baking dish and divide the tomato butter over the top of each piece of cod. When the oven is ready put the fish and broccoli in the oven for 15 minutes. While the fish and broccoli are cooking, heat large sauté pan over medium heat, make sure the bottom of the pan is coated well with canola oil, and cook the croquettes until they get a nice golden-brown color, flip them over and do the same to the other side. Everything should cook up at the same time and be ready to plate.